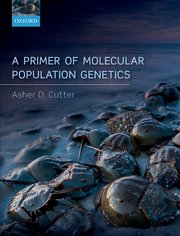 A Primer of Molecular Population Genetics.
Cutter, A.D. Oxford University Press. June 6, 2019.
[Oxford University Press] [Oxford e-book] [Amazon] [Amazon Play e-book] 
[Review in Conservation Biology]
Upcoming 
Widespread misregulation of inter-species hybrid transcriptomes due to sex-specific and sex-chromosome regulatory evolution.
Sanchez-Ramirez, S., J.G. Weiss, C.G. Thomas, & A.D. Cutter.
The distribution of mutational effects on fitness in Caenorhabditis elegans inferred from standing genetic variation.
Gilbert, K.J., S. Zdraljevic, D.E. Cook, A.D. Cutter, E.C. Andersen, & C.F. Baer.
2020
2019
2018
2017
2016
2015
2014
2013
2012
2011
2010
2009
2008
2007
Inbreeding and outbreeding depression in Caenorhabditis nematodes.
Dolgin, E.S., B. Charlesworth, S.E. Baird & A.D. Cutter. 2007. Evolution. 61: 1339-1352. [pdf]
Fossil leaf economics quantified: calibration, Eocene case study, and implications.
Royer, D.L., L. Sack, P. Wilf, C.H. Lusk, G.J. Jordan, Ü. Niinemets, I.J. Wright, M. Westoby, B. Cariglino, P.D. Coley, A.D. Cutter, K.R. Johnson, C.C. Labandeira, A.T. Moles, M.B. Palmer and F. Valladares. 2007. Paleobiology. 33: 574-589. [pdf]
Post-copulatory sexual selection reduces genetic diversity in experimental populations of C. elegans.
LaMunyon, C., O. Bouban & A.D. Cutter. 2007. Journal of Heredity. 98: 67-72. [pdf]

[F1000]
2006
2005
2004
2003
2002
1998-2001
Insect herbivory, plant defense, and early Cenozoic climate change.
Wilf, P., C.C. Labandeira, K. Johnson, P.D. Coley, & A.D. Cutter. 2001. Proceedings of the National Academy of Sciences USA. 98: 6221-6226. [pdf]
Precise, highly female-biased sex ratios in a social spider.
Avilés, L., J. McCormack, A. Cutter, & T. Bukowski. 2000. Proceedings: Biological Sciences (Royal Society of London). 267: 1445-1449. [pdf]
Response of rainforest ant communities in Australia's humid tropics to disturbance: validation of the functional group model.
King, J.R., A.N. Andersen, & A.D. Cutter. 1998. Biodiversity and Conservation 7: 1627-1638. [pdf]